Frontier academic forum of Innovative and entrepreneurial held in Shanghai
新一轮科技和产业革命蓄势待发,如何把握规律,营造有利于颠覆性技术发展的政策环境,抢占国际竞争制高点?近日,复旦大学创新与创业前沿学术论坛(2018)青年学者与博士生工作坊之"颠覆性技术创新与未来变革"在沪举行。
  A new round of science and technology and industrial revolution is poised for growth, how to grasp the discipline, create a policy environment conducive to the development of disruptive technology, and seize the commanding heights of international competition? Recently, Fudan University's Innovation and Entrepreneurship Frontier Academic Forum (2018) Young Scholars and Doctoral Students' Workshop on "Subversive Technology Innovation and Future Change" was held in Shanghai.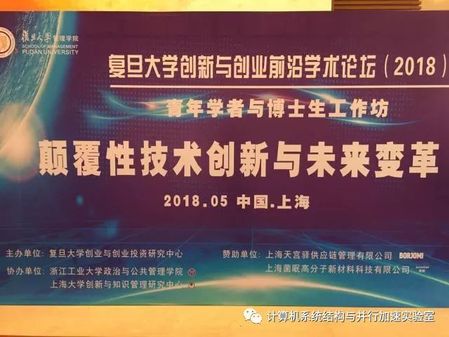 本次会议由复旦大学创新与创业投资研究中心举办,浙江工业大学政治与公共管理学院与上海大学创新与知识管理研究中心协办,上海天宫驿供应链管理有限公司、上海菌眠高分子新材料科技有限公司赞助,复旦大学、上海交通大学等17所高校的专家学者以及博士生等200多人参会研讨。
  The conference was held by the Innovation and Venture Capital Research Center of Fudan University. The School of Politics and Public Administration of Zhejiang University of Technology co-organized with the Innovation and Knowledge Management Research Center of Shanghai University. Shanghai Tiangongyi Supply Chain Management Co., Ltd. and Shanghai Junmian Polymer New Materials Technology Sponsored by the company, more than 200 experts and scholars from 17 universities including Fudan University and Shanghai Jiaotong University participated in the seminar.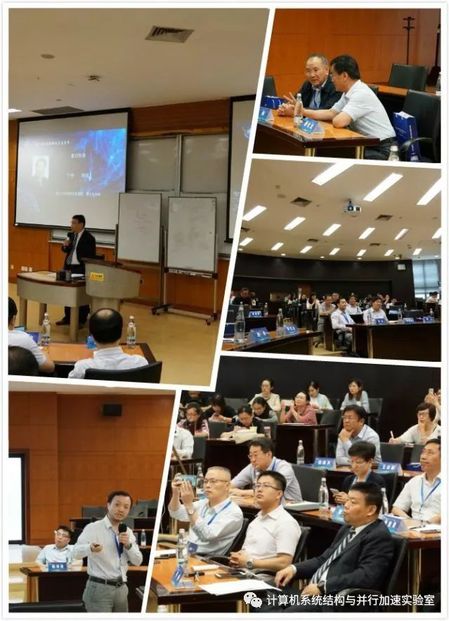 会议伊始,论坛委员宁钟教授致开场词。他表示,新一轮科技和产业革命蓄势待发,颠覆性技术创新不断涌现,推动新产业、新业态、新模式迭代加速,如何把握颠覆性技术创新的产生与演进规律,营造有利于颠覆性技术发展的政策环境,加强颠覆性技术的前沿布局,抢占国际竞争制高点,对我国未来科技产业发展具有重大意义,本次会议针对相关技术前沿主题进行交流、探讨、相互启发,旨在为创造相关领域的新知识、为产业界和公共政策制定部门提供咨询建议。
  At the beginning of the meeting, Professor Zhong Ning, a member of the forum, gave an opening speech. He said that a new round of technology and industrial revolution is gaining momentum, disruptive technological innovation is constantly emerging, promoting new industries, new formats, new models to iterate and accelerate, how to grasp the law of the emergence and evolution of disruptive technological innovation, and create a favorable subversion. The policy environment for the development of disruptive technologies, strengthening the frontier layout of disruptive technologies, and occupying the commanding heights of international competition are of great significance to the development of China's future science and technology industry. This conference exchanges, explores and inspires the related technological frontier topics, aiming at creating new knowledge in related fields, advice to industry and public policy development departments.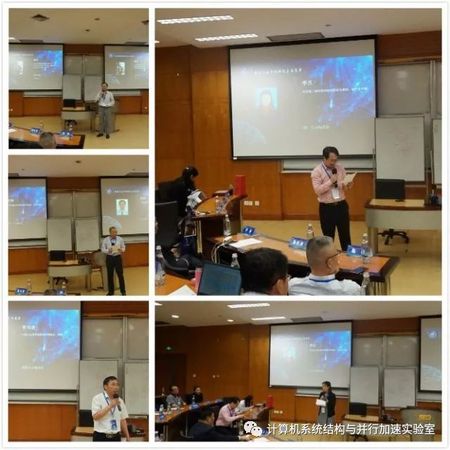 四位教授随后做了主题报告。陈衍泰教授对中国理论前沿中创新生态问题进行了深刻的说明;赵炎教授以"技术创新与变革:历史与启示"为主题进行报告,其从身边的学生研究出发,强调技术的发展需要专注于每一次研究,同时赵教授结合各国的实践经历,对技术的发现与创新进行了生动的阐述;李清海教授以典型公司案例为切入点,详细阐述了"跨越鸿沟"理论,引出全球化进程下公司在技术研发中做出的探索与努力;陈祥锋教授讲解了传统物流模式,并对各新型模型结构下未来物流行业的发展情形进行研究与预测。
  Then the four professors gave a keynote report. Professor Yantai Chen gave a profound explanation of the innovative ecological issues in the frontier of Chinese theory. Professor Yan Zhao gave a report on the theme of "Technology Innovation and Change: History and Enlightenment". From the research of students around him, he emphasized that the development of technology needs to focus on in each research, Professor Zhao combined the experience of various countries to vividly expound the discovery and innovation of technology. Professor Qinghai Li elaborated on the theory of "crossing the gap" with the typical company case as the entry point, which led to the company's exploration and efforts in technology research and development; Professor Xiangfeng Chen explained the traditional logistics model, and predicted the development of the future logistics industry under the new model structure.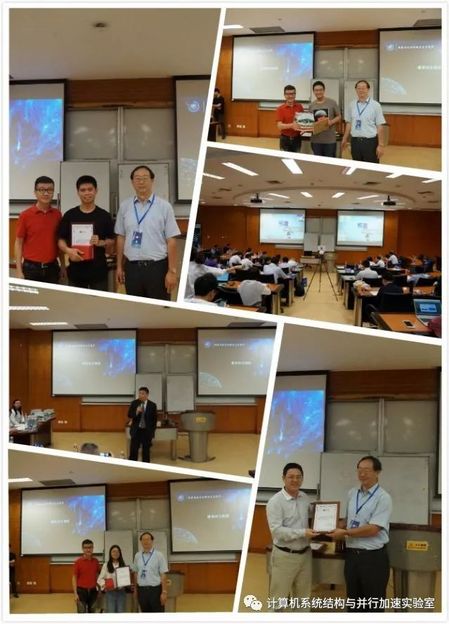 分会场上,各位专家、学者就"'一带一路'倡议下中国与中东欧国家贸易潜力分析""'互联网+背景下女性创业者的创业动机与路径选择""我国超大型城市医疗急救运输系统的创新"等主题也分别作了报告。
  At the sub-venue, experts and scholars analyzed the trade potential of China and Central and Eastern European countries under the 'One Belt, One Road' initiative. Entrepreneurial Motivation and Path Choice of Female Entrepreneurs in the Background of Internet + China's Super Large City Medical Emergency Transportation System Themes such as Innovation were also reported separately.