The Seminar of High Energy-efficiency Heterogeneous Computing held in Shanghai
  2018年6月22日,中国计算机学会上海分部和上海市宇航学会计算机专委会在上海航天学术交流中心联合举办了"高效能异构计算——宇航系统应用数据的实时融合处理、存储、检索与传输等技术"的研讨会,会议由上海理工大学和上海航天电子技术研究所承办。
  On June 22, 2018, the Shanghai Branch of the China Computer Federation(CCF) and the Computer Special Committee of the Shanghai Aerospace Society jointly held the High-performance Heterogeneous Computing - Real-time Fusion Processing and Storage of Aerospace System Application Data at the Shanghai Aerospace Academic Exchange Center. Seminar on technologies such as search and transmission. The conference was hosted by University of ShangHai for Science and Technology and Shanghai Aerospace Electronics Technology Research Institute.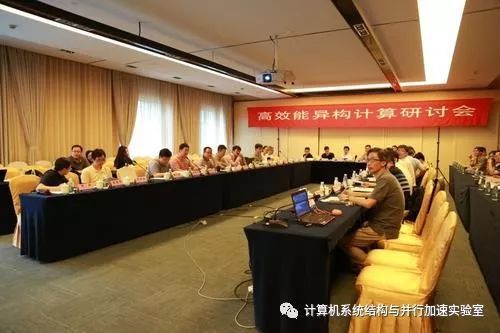 本次研讨会CCF上海秘书长、上海交通大学吴帆教授,CCF上海执行委员、甲骨文(中国)软件系统有限公司院校业务总监丁炎,上海理工大学张学典常务副院长,上海市宇航学会副秘书长朱佳平,电子所张新伟副所长、欧阳尚荣副所长、以及来自清华大学、上海交通大学、华中科技大学、华东师范大学、上海理工大学、华东所、中科院上海微系统与信息技术研究所、上海微小卫星系统所、华东计算技术研究所、中科院上海技术物理研究所、上海蔚星数据科技有限公司、上海智臻智能网络科技股份有限公司、Intel亚太研发中心、中汇信息技术(上海)有限公司、上海威固信息技术股份有限公司、深圳市宝德计算机系统有限公司、上汽集团、上海大学、上海卫星工程研究所、上海宇航系统工程研究所、上海航天控制技术研究所、上海无线电设备研究所、上海航天电子技术研究所等专家和代表50余人参加了会议。会议由上海市宇航学会副秘书长朱佳平主持。
  Secretary-General of CCF Shanghai, Professor Wu Fan of Shanghai Jiaotong University, CCF Shanghai Executive Committee, Director of Business of Oracle (China) Software Systems Co., Ltd. Ding Yan, Executive Vice President of Shanghai Institute of Technology Zhang Xuedian, Vice President of Shanghai Aerospace Society Secretary-General Zhu Jiaping, Deputy Director Zhang Xinwei of the Institute of Electronics, Deputy Director of Ouyang Shangrong, and Shanghai Microsystems and Information Technology Research from Tsinghua University, Shanghai Jiaotong University, Huazhong University of Science and Technology, East China Normal University, Shanghai Institute of Technology, East China Institute, Chinese Academy of Sciences Institute, Shanghai Micro Satellite System Institute, East China Institute of Computing Technology, Shanghai Institute of Technical Physics, Chinese Academy of Sciences, Shanghai Weixing Data Technology Co., Ltd., Shanghai Zhiyi Intelligent Network Technology Co., Ltd., Intel Asia Pacific R&D Center, Zhonghui Information Technology (Shanghai ), Shanghai Weigu Information Technology Co., Ltd., Shenzhen Baode Computer System Co., Ltd., SAIC, Shanghai University, Shanghai Satellite Engineering Research Institute, Shanghai Aerospace Systems Engineering Research Institute, Shanghai Aerospace Control Technology Research Institute, Shanghai Radio Equipment research institute, Sea Institute of Aerospace Electronics and other technical experts and representatives of more than 50 people attended the meeting. The meeting was hosted by Zhu JiaPing, deputy secretary general of Shanghai Aerospace Society.